MadCurry Speakeasy – Now Playing: Goblin – Tour 2013 EP
on
October 6, 2013
at
8:37 pm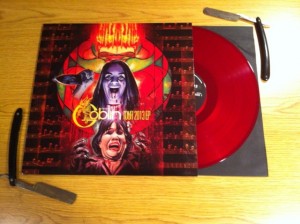 I picked this up at last night's Goblin concert at Underground Arts in Philadelphia. It contains new studio cuts of the following classic tracks:
Profondo Rosso
Roller
Suspiria
Tenebre
All four tracks retain the feel of 1970s and 1980s rock, while still feeling current. You must grab this if you catch one of their shows on this tour!
The concert revealed Goblin as the sort of band whose live performances outshine their recordings. Claudio Simonetti's keyboard sound is unwavering in it's faithfulness to the original tracks, as is Massimo Morante's distinctive guitar and bouzouki playing, but the energy of live performance gives the music new dimension and intensity. Maurizio Guarini's deft playing is essential to the dual keyboard assault of Goblin's best tracks. The new rhythm section of Bruno Previtali (Bass) and Titta Tani (Drums) provides a rock-solid foundation, and blends in with the band's signature sound, while giving it just the right hint of modern metal and prog rock. Most importantly, there was very positive energy between the band and the crowd. Everyone was having a great time, and Goblin delivered just about everything I wanted to hear, but still left me wanting more.
It's a shame that it's taken so long for them to tour the US, but now they are reaping the benefits of the hard work of movie importers, promoters and publishers like Diabolik DVD,  Exhumed Films and Blue Underground. Without them, and others like them, Dario Argento's films would not be nearly as popular as they are today, and Goblin would have a much smaller US fan base. I only had to watch Deep Red once before I became a Goblin fan. That was in the early 1990s and I haven't stopped listening since.